Posted in Events | Feb 28th 2018
Hiden to exhibit at ChemEngDay UK 2018
ChemEngDayUK 2018 – Molecules to Manufacturing, will be held on 27th-28th March at the University of Leeds.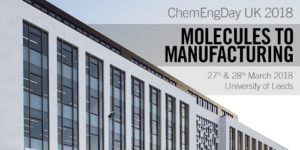 ChemEngDay UK is an annual conference bringing together academics, industry partners and other guests, through a combination of plenary speakers, talks and poster sessions.
Topics for this year's meeting include:
Education
Influence of structure and components on product functionality
Modelling between scales
Process and product characterisation
Process monitoring and control of manufacturing processes
Hiden Isochema will be exhibiting at the meeting so join us there!
For more information or to register visit the conference website.