IGAsorp Accessories
Dynamic Vapor Sorption Analyzer
Available with a range of options and accessories
Options and Accessories include:
Video microscope for high resolution in situ image capture
MVTR (moisture vapor transmission rate) cell
Technique hyphenation with a range of complementary characterization tools
Organic vapor measurement capability
Integrated thermal desorption option for TGA to 350 °C allows sequential, automated vapor sorption – TGA measurements
State-of-the-art software featuring an intuitive user interface and high resolution graphics.
High security 21CFR Part11 compliant software option, with 3 user privilege levels
NEW: Advanced video microscope option for IGAsorp DVS Analyzer
Hiden Isochema's IGAsorp dynamic vapor sorption (DVS) analyzer is now available with a video microscope for high resolution in situ image capture between 5 and 350 °C. This option facilitates the study of phase changes in precisely controlled thermal ramp or steady state conditions including dehydration-rehydration and deliquescence.
The IGAsorp's camera option allows simultaneous high resolution image collection with vapor sorption and TGA measurements to 350 °C, and is compatible with both water and organic vapors. The high resolution video microscope features LED illumination, adjustable magnification to 220x and a built-in polarizer. An all-new software interface offers complete control of the camera from the IGAsorp software with full colour images recorded either at defined time intervals or at particular stages in the method. Real time image display is integrated with the gravimetric data and replay options include time lapse video presentation mode.
MVTR Cell
Hiden Isochema's unique Permeation Cell Set allows the study of water vapor permeation through polymeric films and direct determination of moisture vapor transmission rate (MVTR) values. The films are clamped into a cell that can contain a saturated salt solution to maintain the humidity level within the cell. The environment surrounding the cell is programmed using the IGAsorp during an MVTR measurement with defined humidity conditions across the film. The membrane clamps are pre-sealed to allow the integrity of the seal on the film to be verified before the MVTR measurement commences.
HIsorp software
Hiden Isochema's user friendly HIsorp software is fully compatible with all Microsoft Windows operating systems, and features an intuitive user interface and high resolution graphics. HIsorp uses the unique IGA method for real time kinetic analysis and endpoint prediction, offering faster and more accurate and consistent isotherm determination than simpler gradient based methods. It also incorporates a range of useful and time saving features including a PDF report generator, single click export to Excel, automated email notification on completion of experiments, and embedded video help.
Advanced analysis features include chemical diffusion coefficient, enthalpy of adsorption and sorption rate calculations and surface area analysis. Hisorp also includes simple user conformance test routines for weight, temperature and humidity verification.
Technique Hyphenation
IGAsorp models can be interfaced with complementary characterization methods such as Raman and infrared probes, and a range of quadrupole mass spectrometers from Hiden Analytical. Vibrational spectroscopy techniques are used to obtain additional information on the interaction of water vapor with complex samples, whilst the integration of a mass spectrometer allows a powerful combination of vapor sorption and TGA-MS analysis in one installation.
IGAsorp Series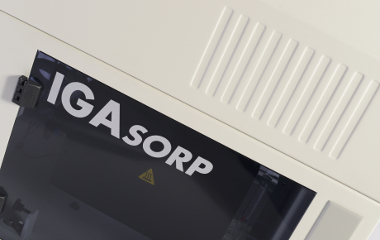 Fully automated compact benchtop DVS analyzer, for fast and accurate sorption measurements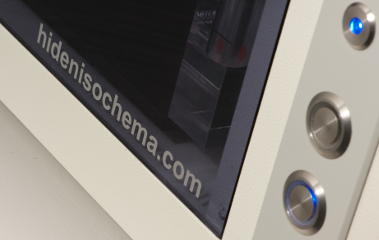 Fully automated compact benchtop dynamic vapor sorption analyzer, with extended isothermal range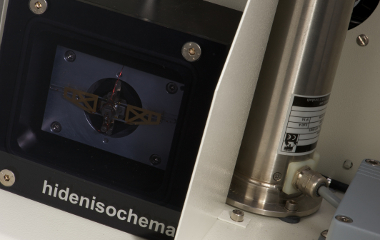 Fully automated DVS analyzer, with advanced control method for water sorption under extreme conditions
Any Questions? Get In Touch
Get in touch with us today to speak to one of our experts.
Call us on +44 (0) 1925 244678 or click below to contact us.